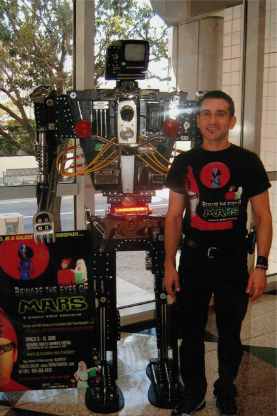 DAVID MANN - BIO

Writer, Composer and Lyricist


David Mann was born in Flushing, New York and started taking piano at an early age. He is an alumni of the University Of Miami where he received a Bachelor's Degree in Music and is an accomplished pianist and vocalist. David was in several theatrical productions and was in the University Of Miami Jazz Vocal Ensemble. He has produced several live albums and has performed as a piano bar entertainer in piano bars all over the United States, Europe and on cruise ships worldwide. He has performed for Universal Studios, Walt Disney World, Holland America Lines, Royal Caribbean Lines, Carnival Cruise Lines and in several dueling piano bars including Howl At The Moon Saloon, Crazy Pianos in Holland and the New York, New York Hotel in Las Vegas.

Drawing upon his own life experiences and travels, David composed and staged his second original musical, "Beware The Eyes Of Mars," in the Broward theatre in downtown Fort Lauderdale in March of 2006. In addition to composing the book and music, David also co-directed the show, which had 24 players and 24 musical numbers. The musical was a benefit for the charity 'Kids In Distress.' The entire score for the show was recorded in David's Pro Tools recording studio,
DELRIZIAN STUDIOS
. David Mann currently resides in sunny Fort Lauderdale, Florida, U.S.A.

In addition to composing the book and music for "Beware The Eyes Of Mars", David also directed the 2006 musical run. David did the first run of the show at the University of Miami in his Senior Year. The show has been updated with new music and storyline, which came about as the show again became socially relevant. A musician at heart, the music is the most important aspect to him.